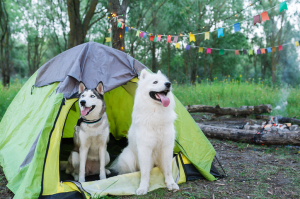 General Camping Information
This year the trade fair takes place in an actual campground. We have 2 large fields designated for our group use. There are no power/water hookups in these fields but there is water available in other areas of the campground.
For those wishing to have power/water hookups, you need to book your campsite directly with Branch Brook Campground by calling 603-726-7001. Information and online booking for power/water sites is also available at their website:
Campers may arrive after 3 p.m. on Friday to set up. There will be trails to train on at the campground that are marked out for our use - please stick to those trails and do not run your dogs around areas where non-tradefair campers are camping.
Campers please dispose of trash in appropriate trash bins or dumpsters, fill in all holes dug by your dogs and respect the other campground users with no unnecessary noise before 7 am and after 9 pm.
Camping Fees:
$65 / weekend (tenting site)
Camping Tickets include 2 day entry for ONE person. Campsites may include up to 4 people but additional people must purchase their entry tickets separately. Children under 16 are free.
Registration:
All campers MUST purchase tickets in advance online. Refunds will be granted if you cancel before September 30.