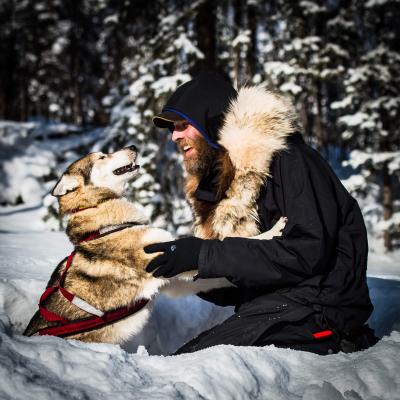 Mike Ellis
Yukon Quest and Iditarod Finisher/Team Tsuga Siberians

Mike Ellis started in mushing in the fall of 1993 near his central New Hampshire home and 'worked off' his first Siberian husky puppy in 1995. Sue accepted a puppy as a wedding engagement present in 1996; Mike and Sue were married in 1997 and Tsuga Siberians was born at a house in a Thornton hemlock grove in 1998 from those dogs, Wyatt Riot and Yellow Birch.

Mike and team worked their way up from an early second place finish in the Sandwich Notch 30-mile race to finishing the Can-Am 250 for numerous consecutive years in the mid-2000's, always wanting to be going further at every finish line, eventually leading to a first 1000-mile Yukon Quest in 2008 and moving to Alaska full-time in 2009.

Within a couple years on the Alaska mushing scene, Mike and team had won the Veterinarians' Choice award at every race venue they attended including the GinGin 200, Copper Basin 300, Two Rivers 200, and the 1000-mile Yukon Quest. They went on to run in 9 Yukon Quest's and 2 Iditarod's, setting new records in both for purebred teams that still stand today over a day faster than any other Siberian team has ever run either of those races.

Throughout their racing career, Mike and Sue ran their kennel on the motto of "Respect your doG," making a lifelong commitment of exceptional care for each and every dog they raised and trained. Since 'retiring' from racing a few years ago, Mike and Sue continue to run and train their aging kennel from their home in the hills north of Fairbanks, Alaska.