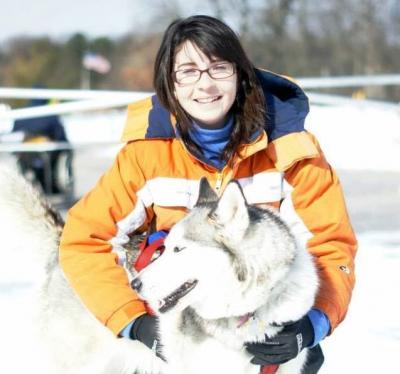 Kate Walrath
Professional Dog Trainer & Musher/Run By Dogs

Kate started her professional career with dogs in 2008. She traveled to Alaska looking for "working dogs." She fell in love with dog sledding and came home to New York to train her own dog sled team. She sprint raced as far north as Quebec and as far south as Maryland.

While the dog team grew, Kate worked for two years as a veterinary technician and for one year in a dog day care managing structured dog walks and group play. Since the founding of Run By Dogs in 2014, Kate has been a full-time practicioner of the dog life; providing behavorial dog training and education to others and traveling to schools, community programs and winter carnivals with the dog team.

Her focus in dog training is to create a working team between people and their dogs. She strives to unify dogs/owners in a balanced relationship of respect, affection, physical exercise, mental stimulation and confidence. Working together with your dog(s) doesn't always mean mushing a team of sled dogs down a trail. It's existing in the real world, around other dogs, people, children, food, etc. The true reward for the dog is inclusion in our lives. They want to be with us, and us with them. Kate's job is to make that happen.