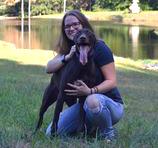 Nova Clifford
IFSS Jr. World Champion, Multi ISDRA Medalist

Nova is a 3rd generation dog musher from Southern NH who has been involved in dog sports for her entire life. She currently has a small team of 6 dogs, and specializes in dryland and sprint sledding. Nova is on the board of directors for both Down East and New England Sled Dog Clubs.

Nova is a multi ISDRA Medalist & won IFSS Junior Gold in Scooter and Junior Silver in Canicross.