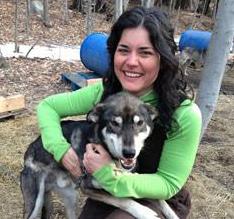 Sally Manikian
Can Am 250 & UP200 Finisher

Sally seeks nothing less than a full life of purpose and service. Possessing qualifications as varied as a MScEcon in Postcolonial Politics, Historic Preservation of Log Cabins, Leadership New Hampshire, and a B-Level Sawyer, Sally worked for the Appalachian Mountain Club for almost a decade in the Trails Department; she currently works for The Conservation Fund as the NH and Vermont Representative.

As a musher, Sally started with tour dogs almost 10 years ago, and immediately moved into mid-distance races once she started her own team in 2011. Her race record is varied, from the CanAm 250 to shorter local races, to helping create (and then place 4th in!) the Mahoosuc 100, and a recent trip to the UP200 in 2015 where she was the first woman to cross the finish line. Sally's best race finishes in mid-distance include 1st place in the Can Am 100 2020, 6th place in the Can Am 250 2016, and 8th place in the UP200 2016.

Sally lives in Shelburne, NH, with the small group of the 15 team members of the Shady Pines Sled Dogs, as well as with her disabled brother and sister, for whom she is a guardian and caregiver. Visit the Shady Pines website at http://shadypinessleddogs.com.