Jaimee & Justin High
Iditarod Finishers / High's Adventure Kennel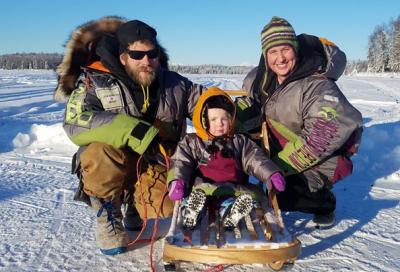 Jaimee (36) has been mushing for the last 25 years, starting off with pure bred Siberian Huskies in Boise, Idaho. She moved to Alaska in 2008 when she got an unexpected call from Legendary Musher Dee Dee Jonrowe to handle and train dogs. Jaimee quit her job and hastily moved up to Alaska to work with an icon of the sport.

Justin (35) moved to Alaska in 2009, never mushing before to handle for Dee Dee, after getting laid off from a large corporate job, and looking for an adventure. He quickly fell in love with the sport, the dogs, and lifestyle.

Justin and Jaimee first met while working for Dee Dee and married in September 2012. After Jaimee took Dee Dee's puppy team to Nome in the 2012 Iditarod, they spent the summer of 2012 building their own home and kennel in Willow, Alaska along the trail system they have been running on since moving there. They began to breed and formulate their own line of dogs that best suited their style of racing and started High's Adventure Kennel. Also, in 2012 Jaimee took her knowledge of sewing and helping put together gear for her own Iditarod and helping mend gear for Dee Dee to the next level by starting High's Adventure Gear. Sewing collars, dog coats, sled bags, and mending gear at first.

In December of 2014 Justin and Jaimee lost their home and business to a house fire that took their home and shop. With no insurance, help from friends and family helped them re-boot High's Adventure Gear and start rebuilding their home. While living in a 20' Shipping Container for the rest of the winter and spring (somewhat turned into a house) and about half re-built in June of 2015 the Sockeye forest fire came through Willow and burnt down their home again. During the fire Justin and Jaimee, had to evacuate the area with their dogs and helped evacuate another 200 dogs from the neighborhood. Undeterred Justin and Jaimee promptly started re-building again. Especially, because this time they just found out that Jaimee was pregnant with their first Child. They moved into their new home in October 2015 just in time to welcome Isidore Rose in January 2016.

That summer after Isidore was born, Justin and Jaimee focused on raising "Izzy" and on expanding High's Adventure Gear into human gear and getting a team in Iditarod 2017. They started with the "Willow Tuff Parka" after going through thousands of dollars of parkas that just did not work for mushing in Alaska. They eventually moved onto the "Willow Tuff Extreme", Wind Systems, Mitts, "Buffalo Tunnel Snow Chaps", and much more to come. In 2017 Justin also ran Iditarod completely outfitted in High's Adventure Gear outerwear.